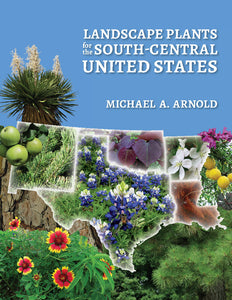 Landscape Plants for the South-Central United States
Sale price

$144.95

Regular price
ISBN:  978-41-64617-289-4
Author: Dr. Michael Arnold
Format(s): Print Hardcover
Landscape Plants for the South-Central United States is a resource for students, Green Industry professionals, and serious gardeners interested in designing and maintaining sustainable built environments.
The heart of the book is extensive discussions of hundreds of taxa of native and introduced landscape plants. To facilitate selection during design, plants are arranged in their predominant landscape use categories, rather than in botanic families or alphabetical order.
For each main taxa, we provide detailed identification characteristics, plant habit, growth characteristics, cultural requirements, regions of adaptation, aesthetic and ecosystem assets that the taxon can bring to designs for built environments, typical modes of utilization, liabilities and limitations potentially associated with the plant, plant origins, etymologies, and socio or economic importance.
Numerous related taxa are also included. Over a thousand black and white images and line drawings enrich the text throughout and 140 pages of color images are included in plates following each section of the book.
Following up the plant discussions is an extensive glossary of morphological, biological, and cultural terminology, including notations on key diseases and pests mentioned in the text. A master list of references provides a starting point for further studies. An index of all scientific (accepted, synonymous, and misapplied) and common names of plant taxa facilitates plant sleuthing when only a common name or out-of-date scientific name is known.
Note: Digital-only or combination (print plus digital) editions are not eligble for return or refund.
Adding product to your cart
Use left/right arrows to navigate the slideshow or swipe left/right if using a mobile device