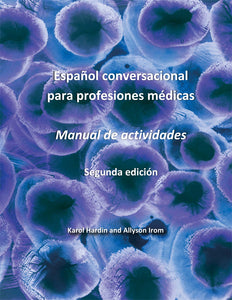 Español conversacional para profesiones médicas: Manual de actividades - 2nd edition
Sale price

$24.48

Regular price
Overview

For health practitioners in many regions of the United States, advanced proficiency in Spanish is crucial to providing appropriate health care. Rudimentary skills are inadequate and potentially dangerous. This second edition of Español conversacional para profesiones médicas: Manual de actividades provides a step towards advanced competence through communicative practice that helps Spanish learners use medical vocabulary and apply grammar in context.
Unlike traditional textbooks, this manual focuses on oral proficiency through practical role-plays and activities that have been classroom tested for fourth-semester Spanish. The text is particularly useful for intermediate-level medical Spanish courses, whether in undergraduate, professional or medical schools, residency programs, or continuing education.
About the Authors
Karol Hardin is Associate Professor of Spanish at Baylor University where she coordinates Spanish for Health Professions. Her Ph.D. is in Hispanic Linguistics from the University of Texas at Austin.
Allyson Irom is Senior Lecturer of Spanish at Baylor University where she has taught Intermediate Spanish for Health Professions for many years. She holds a Ph.D. in Hispanic Literature from the University of Texas at Austin.
Jay Hardin illustrated the cover.
Available Formats: Print (softcover), Digital (downloadable PDF)
Note: Downloadable PDF texts are restricted to view-only and may not be edited. They may be annotated with Acrobat Reader on MAC and PC platforms, but are not compatible with notetaking apps in IOS (i.e. Notability or GoodNotes).
Note: Digital-only or combination (print plus digital) editions are not eligble for return or refund.
Adding product to your cart
Use left/right arrows to navigate the slideshow or swipe left/right if using a mobile device